DALITEK "Smart Office" Special Salon Date:2019-08-23
On August 14, DALITEK held a smart office salon, together with FEYOND Media, in DALITEK headquarters building. A total of 30 people, from nearly 20 enterprises in real estate, architecture, interior and lighting design fields, participated and explored the infinite possibilities of intelligent application together in the way of real scene experience visit and study group.
Mr. Liu Jiwu, Deputy General Manager of DALITEK, made a deep analysis and sharing about the current situation of smart office system, functions of smart office system, and the applications of smart office in different scenes.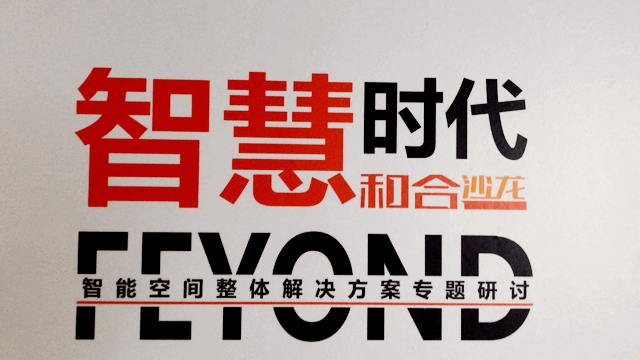 Smart Office System Status Quo
Mr. Liu Jiwu pointed out that the smart office market is very large. According to the third-party research report, the global smart office market could reach more than 200 billion in 2020. At present, many corporate headquarters, regional offices and increasingly developing Shared Office Space are in great demand for smart office. In the future, smart office market will continue to develop.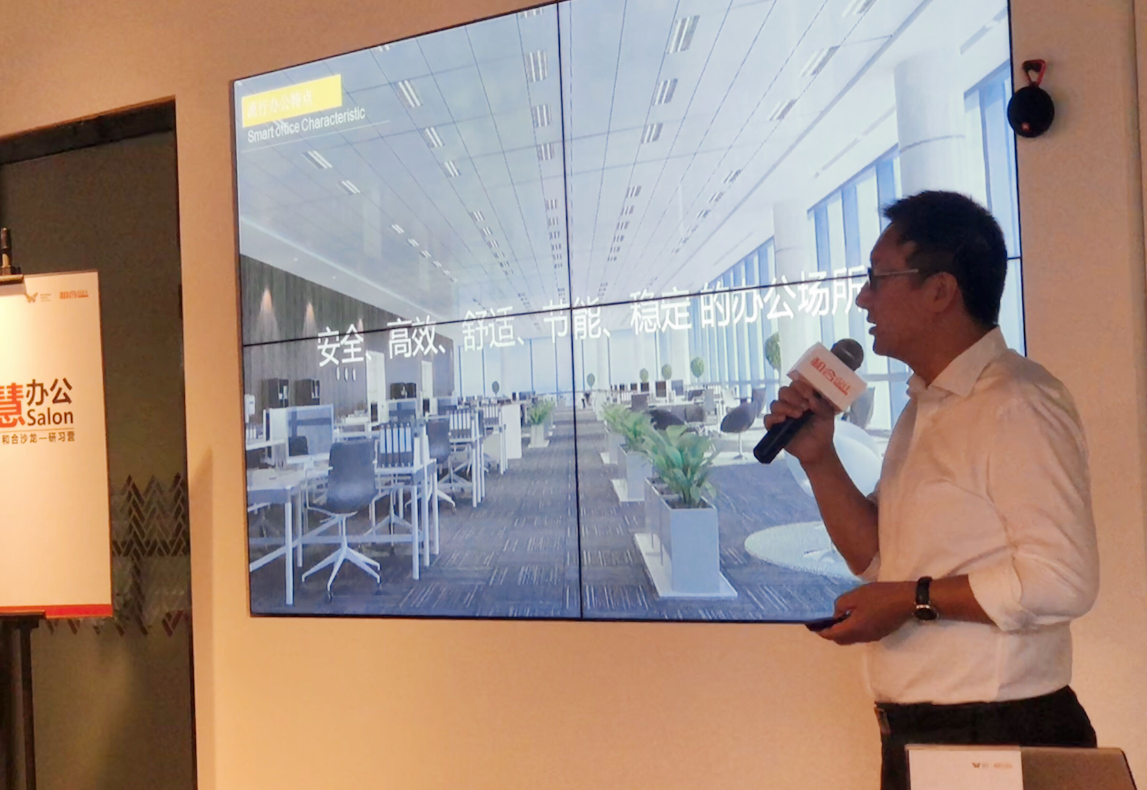 Enterprises' requirements for smart office are firstly security, especially for office places with high security requirements, security is an important factor. Secondly, it is about being efficient, which can improve employees' work efficiency. Meanwhile, comfort, energy saving and stability are also the main requirements of smart office. The use of intelligent equipment requires high stability.
There are some problems with the traditional office. For example, environmental monitoring problem (illumination, temperature and humidity, indoor air quality, etc., cannot be mastered and adjusted in real time; manual equipment switch, without intelligent recognition and switch based on scenes, etc.), management problem (employee attendance, access permission problems, cannot prevent clock-in missing/fake clock-in, etc.), shared office problem (intelligent booking and distribution about the shared office area and real-time understanding whether or not the work station is in use, etc.), power consumption problem (understand the power consumption situation, formulate a proper energy management strategy, etc.), and safety concern (visitor management, external personnel monitoring, authorized to enter into a particular area, no real-time tracking, cannot take deployment and control measures in advance, etc.)
Smart office is not just about lighting; it actually integrates many aspects, such as access control management, attendance management, intelligent control, visitor management, conference room reservation management, intelligent reservation and release of work station, voice interaction, and data management, etc. These applications can be organically combined to form an integrated intelligent office solution. Of course customers can choose what applications to employ according to their specific needs.
In terms of smart office construction, in addition to the demand for energy saving, the industry also pays more attention to the impact of buildings on people's health and comfort.
Mr. Liu Jiwu also made a detailed sharing about several applications of smart office.
Access Control Management: in a building, from the gate in the lobby to the offices or specific office areas on each floor, access control system based on face recognition can be adopted to replace the traditional way of swiping card. In Shanghai, there are regulations latest issued requiring the landmark buildings to adopt biometric identification.
Attendance Management: the traditional way of staff attendance is swiping card, but there are some loopholes. Access control system based on face recognition can seamlessly connect with the employee management system. In addition to the attendance function at the front end, data analysis can also be carried out at the back end.
Intelligent Control: Based on the building environment, a whole scene-based control mode can be set, including lighting, curtains, air conditioning, fresh air and other electrical equipment. Combined with sensor and human - machine interaction interface, humanized intelligent control can be realized. For example, the meeting room can set welcome mode, projection mode, discussion mode, meeting mode, etc., which can be easily switched according to specific scene.
Visitor Management: The intelligent visitor system can make an appointment, sign in, release and set visitor rights, such as which areas the visitors can enter and which areas they cannot. DALITEK's headquarters building adopts WeChat official account for visitor reservation and authorization, combined with face recognition, to build a convenient and effective visitor management system.
Conference Room Reservation Management: For enterprises, the conference room is a highly busy place to use. If the enterprise has multiple meeting rooms, how to book a meeting room conveniently and inquire about the reservation is very important. If the meeting room is not used on time as booked, the meeting room can be automatically released when the sensor judges that the meeting room is empty.
Intelligent Station Allocation: For shared office space or office based on WBS working mode, the station can be reserved remotely. The light and power supply of the station can be automatically activated by scanning code or sensor sensing the arrival of people. In addition, there are corresponding intelligent solutions for the use of lockers.
Voice Interaction: you can set up many functions, such as information query, guidance, interaction and so on.
Data Analysis: Present the operation situation of the whole office building through data reports, including energy consumption, attendance, personnel trajectory, equipment operation, etc., and the corresponding information can be inquired through intelligent voice interaction. According to the data result, corresponding operation strategies can be formulated to improve the space use efficiency, and energy saving strategies can also be formulated to reach energy consumption reduction.
In the end, Mr. Liu Jiwu shared two practical application cases in analyzing the smart office solution, namely small conference room renovation and large building operation based on BIM.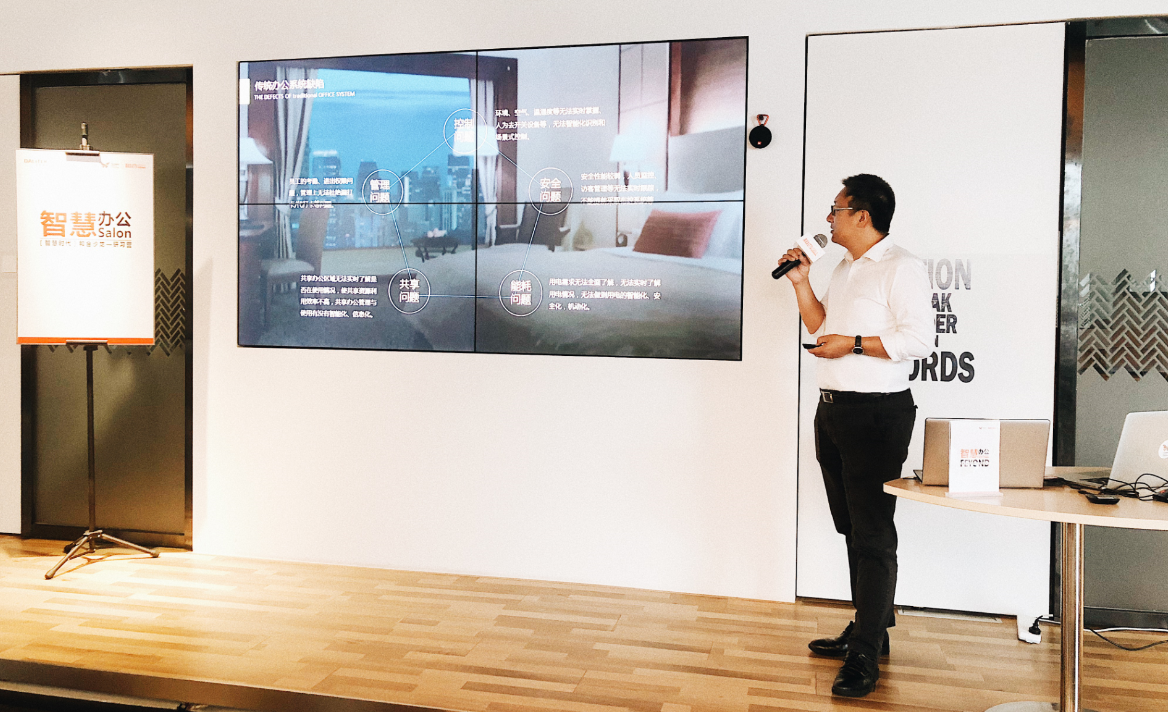 Small Conference Room Renovation
Regarding the renovation of existing small conference room, DALITEK provides wireless solutions according to the specific needs of customers, including wireless switch, APP, small program control, intelligent voice control, motion sensor, illumination intensity sensor, temperature and humidity sensor, air quality sensor and actuators, etc. Automatically detect whether the meeting room is occupied or not, and turn on or off the air conditioning and fresh air system according to the environmental monitoring data; It can set different scene modes (speech, meeting, discussion, leave, etc.), and control lighting, air conditioning, TV, teleconference system and other equipment through intelligent voice interaction and other ways. Conference room reservation systems can also be deployed to improve efficiency.
BIM Operation and Maintenance Monitoring of Large Buildings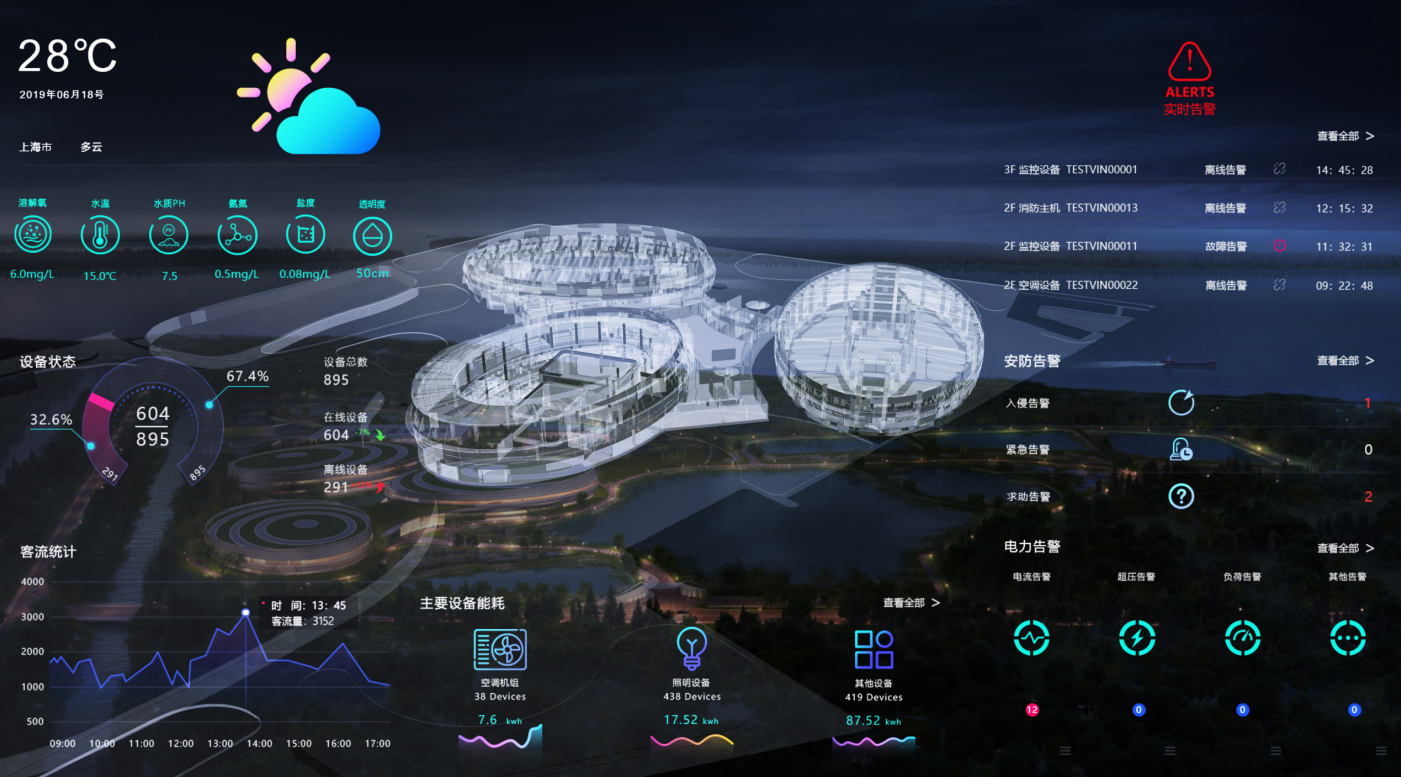 BIM is a system used more and more frequently by architectural design institutes, and its convenience and efficiency are very welcomed. BIM-based operation and maintenance software can monitor the building information in different dimensions, such as graphical display of regional equipment status, customer flow monitoring based on face recognition, and statistics of equipment energy consumption by category, etc. Real-time feedback of fire alarm in different areas to facilitate the deployment of hands and material resources. All of this needs hardware and software well combined, and a strong development strength.
DALITEK can provide cloud services, and in addition to standard application products, it can also customize services according to the specific needs of customers. Smart office plans can be customized according to specific project conditions, such as small conference room, small office area, overall office building, and overall park plans.
During the salon activity, in addition to the wonderful keynote speech sharing, the guests were also deeply impressed by the smart office visiting experience in DALITEK headquarters building.
The group discussion session also carried out in-depth discussion and result sharing from the topic directions of architectural space design, industrial collaboration, intelligent building technology application, office intelligence trend, etc., which drew a satisfactory conclusion for the salon.