Hotel Room Control System
(Grand Hyatt Shanghai)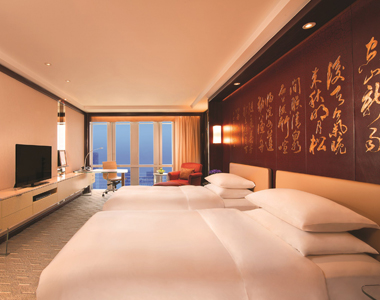 Grand Hyatt Shanghai
1、Customer needs
Hotels around the world are facing stricter environmental and 'green building' regulations and standards. DALITEK guest room management systems allow hotels to meet these new standards and also offer an optimal guest experience.
The functionality of the DALITEK intelligent hotel system includes:
Lighting control: User-friendly one touch scene control to create the perfect atmosphere.
Motorized curtain control: Seamless control of curtains and sheers.
HVAC control: Robust local and central control of HVAC to achieve a comfortable environment and energy use optimization.
Housekeeping: Intuitive housekeeping logic control ensures guest satisfaction with timely service and improved operational efficiency.
Occupancy sensors: Combination of sensors provide control of electrical systems based on room occupancy.
Network system: Convenient remote control and monitoring of all systems by hotel management. Seamless integration with the BMS.
Security control: Weak power to control strong power mode ensures guest safety. Keycard identification prevents potential theft. Monitoring of the SOS signal ensures timely assistance of guests.
2、Programme
Create welcoming and comfortable rooms with intuitive and user-friendly control of all systems.
Provide timely and efficient housekeeping and other services that minimize disturbing guests.
Implement energy use optimization with rational allocation of resources